Article by: Sharon Waterworth, Vice Chair, National Trust of Zimbabwe Farmers today are under pressure to meet the demands of a rapidly growing global population whilst operating in increasingly challenging environmental conditions. It is more important than ever to ensure both food security and environmental sustainability not only for our generation, but generations to come. To achieve food security whilst safeguarding ecosystem stability, there must be a widely shared appreciation of agriculture as a multifunctional strategic land use that can provide: nutritious food, rural development and employment, environmental management, and the sustaining of cultural heritage of agrarian communities.
Organic farming is a technique, which involves cultivation of plants and rearing of animals in natural ways. This process involves the use of biological materials, avoiding synthetic substances to maintain soil fertility and ecological balance thereby minimising pollution and wastage.
ORGANIC FARMING HAS MANY SIGNIFICANT BENEFITS INCLUDING: ENVIRONMENTAL
Many changes observed in the environment are long term, occurring slowly over time. Organic agriculture considers the medium- and long-term effect of agricultural interventions on the agro-ecosystem. It aims to produce food while establishing an ecological balance to prevent soil fertility or pest problems. Organic agriculture takes a proactive approach as opposed to treating problems after they emerge.
IMPROVED HEALTH
Organic food contributes to better health through reduced pesticide exposure for all and increased nutritional quality. In order to understand the importance of eating organic food from the perspective of toxic pesticide contamination that pollutes the waterways from which we drink, the air we breathe, and the food we eat. Organic food can feed us and keep us healthy without producing the toxic effects of chemical agriculture.
SOCIAL
The various benefits of organic farming for small farmers all over the world include a high premium, low capital investment, the ability to achieve higher premiums in the market, and the ability to use traditional knowledge. Organic farming uplifts livelihoods in many rural communities for small scale farmers.
One of the best ways to ensure continual economic growth is to enhance lasting social structures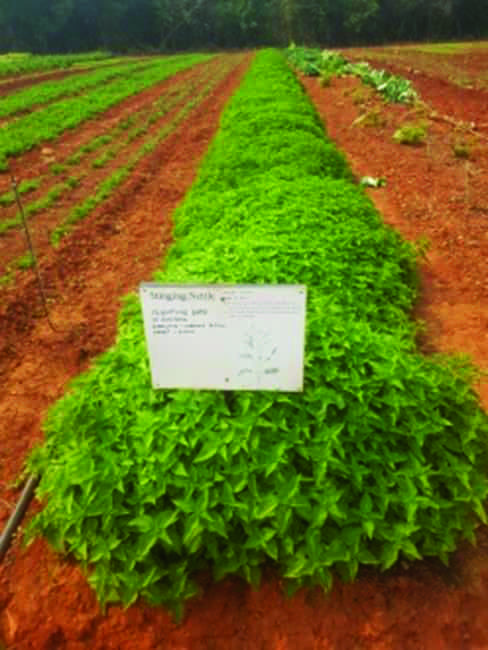 within the farming communities and the money therefore goes back into the local communities. Organic farming has been of great benefit to producers living in areas where
a) there is not a lot of income and
b) especially in the dry season.
In 2017, La Rochelle Organics, in partnership with Organic Africa, established 10 ha of field test trials of organic herbs in the eastern highlands. Organic Africa is the only company certified in organic fair-trade products in Zimbabwe. They are also the only company in southern Africa whereby its small scale farmers have their land certified. The certification means that their farmers produce high value crop (low volume) and are paid a premium price.
The herbal raw materials are grown, harvested and collected in a way that conserves nature so that the diversity of resources will continue to be available to future generations. Of great importance to La Rochelle Organics is responsible economic activity and they nurture long-term, fair relationships with business partners, insist on controlled, integrated cultivation and promote social and cultural projects.
To date, herbs being grown for export include organic chamomile, lemon balm, stinging nettle, safflower, calendula, thyme, peppermint, lemongrass, chillies and paprika.
In addition, trials are still being conducted on the following: caraway, anise, fennel, ginger, turmeric, lavender, basil and lemon verbena. La Rochelle Organics invests a lot of time and money in undertaking research into identifying and developing potential commercial applications for indigenous under-utilised species. There are a large number of locally available plant species that could be used by small scale farmers, especially in the drier parts of Zimbabwe. They have tapped into the enormous potential of small scale organic production, processing and marketing of high value essential oils, herbs, spices, and medicinal plants.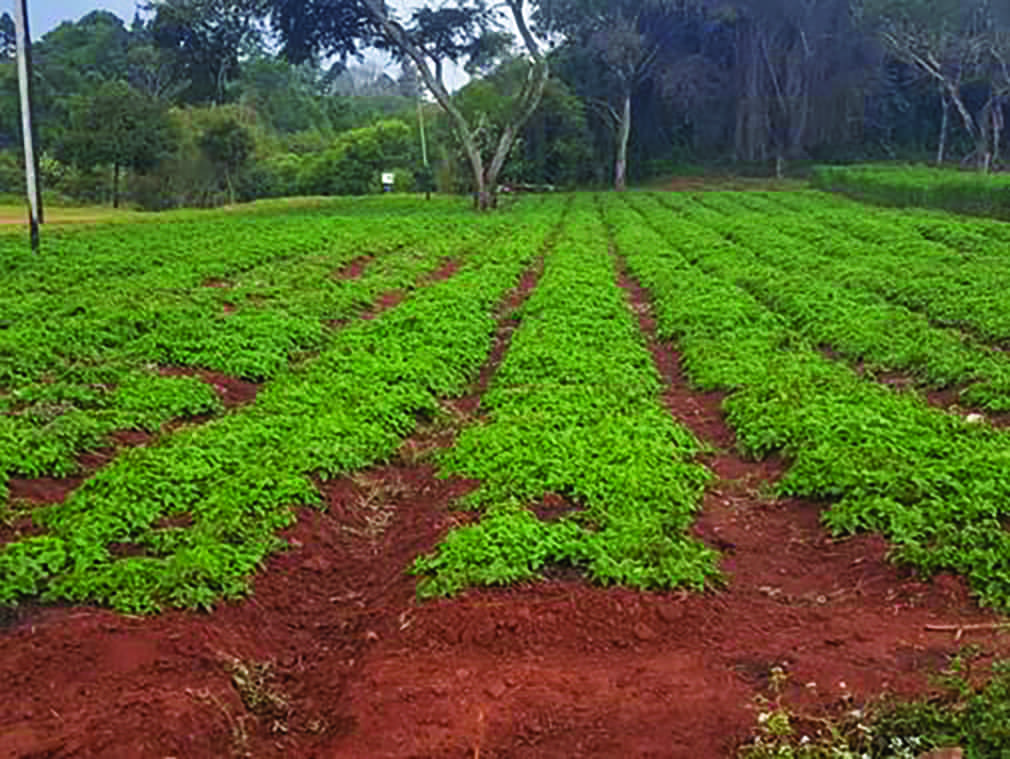 They work extensively with all their producers to help them attain Ethical Biotrade, Organic and Fairtrade certification. They train farmers to grow crops without using chemicals or fertilisers and how to make compost according to strict organic global regulations. Since September 2017, the farm has trained some 3889 farmers (2377 female and 1512 male). 46 of them comprised four farm managers and 42 contract farmers.
Looking forward, plans include the building of an Agribusiness Training Centre which will offer courses in sustainable organic farming for small scale farmers in southern Africa and will really give them a chance to understand and have hands on practice experience which will lead to more small scale farmers being trained at a high level. Needless to say, this is an exciting opportunity for all the organisations involved and for Zimbabwe.
HERBS AND HERITAGE
The surprise is that the organic farm is located on a National Trust of Zimbabwe heritage property, the La Rochelle Centre, well known for their luxury accommodation and spa. La Rochelle Centre also boasts one of the finest arboretums in southern Africa with some 400 varieties of trees from around the world as well as the prestigious Courtauld Orchid collection.
Established in 1960, the National Trust of Zimbabwe protects and manages seven properties which are held in perpetuity so that their future protection is secure for future generations to enjoy. In Manicaland, these are Fort Gomo, La Rochelle Country House and Spa, Murahwa's Hill, Rhodes Nyanga Historical Hotel and Worlds View. In Matabeleland, Mabukuwene and in Midlands,
Sebakwe Poort.
The mission statement of the Trust is to be custodians of those properties and sites of cultural heritage and natural beauty which they hold in trust, maintain and manage them for the benefit and enjoyment of the friends and people of Zimbabwe. The Trust welcomes new members. For details, contact Mr C Hyslop on info@ntoz.org.
For further information, visit www.ntoz.org or visit and like the Facebook page.
Heritage is precious: treasure it.