Birth weight recording of a calf
Cattle management involves many aspects of the day to day handling and care of animals, which are all vital to the well-being, ease of management, and productivity of the herd. Whatever aspect of management one is dealing with, it is essential that cattle are handled calmly and quietly and treated humanely. Badly treated cattle are uncooperative and stressed, causing loss of condition and wildness. More often than not, when an animal becomes stressed and over-excited, all that is required is to stand back, allow it to quieten down and it will do exactly what you wanted it to do in the first place.
Keep daily management as simple and practical as possible but strive to maintain accurate records, carry out routine vaccinations and other operations on time, and follow a simple annual timetable. Handle cattle gently at all times and they will reward you with being easy to handle and quiet. It is a law that an up-to-date stock register is kept recording animal numbers, sex, and class of animals, dates, and numbers of additions and removals. Indicate dates and numbers when cattle are dipped. It is also a legal requirement for cattle to be branded with the appropriate Veterinary brands for the area in which
they are kept.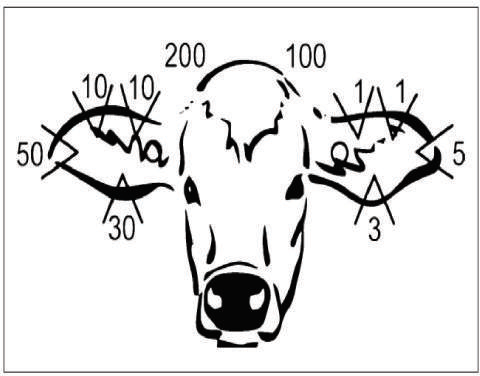 IDENTIFICATION & RECORDING

Many good stockmen, particularly those with small numbers of cattle, will know their cattle individually. But it is still a good idea to mark each animal and keep records. Identification will help in the recovery of lost or stolen cattle. Individual and ownership identification may be in the form of ear notching, branding, or ear tags, or a combination of these. There is a simple, widely used method of number ear notching. Individual branding and ear tag marking can be done using a combination of the year of birth and an individual number from 1 in sequence. For example, 1701and 1702 would be the first and second calf born in 2017. The animal retains this number throughout its life. It is important to use the correct tag marking pens to mark tags; ordinary magic markers will not last and soon be illegible. Be advised to buy good tags and that will last.

Veterinary regulations require all animals over the age of 6 months to be branded on the left neck or shoulder with the brand for your veterinary area or zone. In addition, it is a requirement that all animals be branded identifying the farm or dip tank of origin, or both. This is also required to be applied before 6 months of age. Your local Veterinary Officer will advise on all branding
regulations which may change from time to time.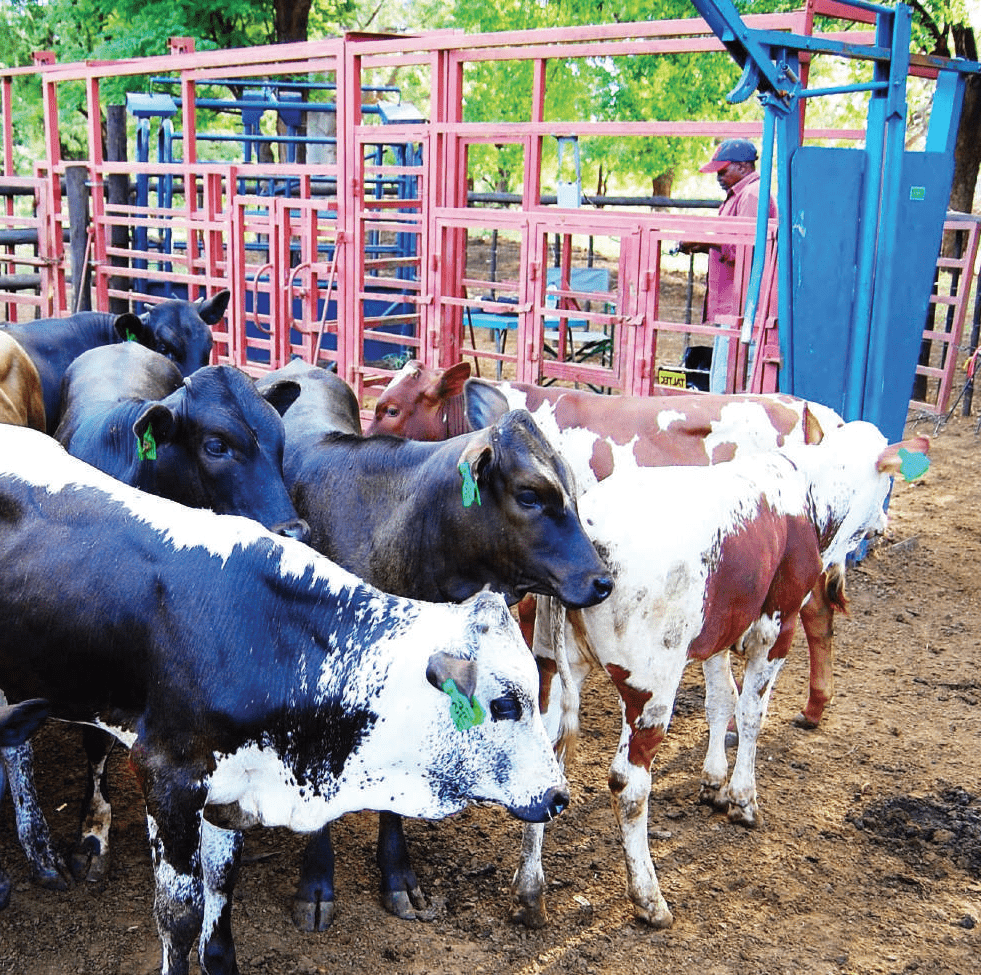 In some cases, ear tags approved by the Director of Veterinary Services may be applied to the left ear within 20 days of birth, in place of brands. Record keeping can vary from unnecessarily detailed records which are a problem to keep up and contain a large amount of superfluous information, to a few important but simple records which are invaluable for your selected
program and other operations. The secret of good record keeping is not only to keep up accurate, simple records on a regular basis but also to use the information to improve your herd.

USEFUL RECORDS TO KEEP ARE AS FOLLOWS:
• Stock Register – details of numbers and classes of stock, births, deaths, transfers, movements, sales, and purchases.
• Cow/Calf Card – details of individual cow and her progeny to weaning age, ICP (Calving interval).
• Weaner Record – details of cow and weaner ID's calf weaning weight and cow weight, weaning ratio, weaner/cow weight ratio.
• 12 to 14 Month Record – assists in choosing replacement heifers.
• Grazing Register – when some form of managed grazing is practiced.
• Rainfall Records.

Not everyone has, or can afford a scale but weight records can still be kept using a weigh band. As long as it is used consistently it will help to record differences in weight, if not the precise actual weight. However, the records are kept, it is important to note that selection should not only rely on written records but also on the careful visual appraisal for functional efficiency
by the stockman, to achieve a balanced result. Performance records and visual appraisal go together; you cannot have one without the other. The old adage, "The eye of the stockman fattens the beast," is as relevant today as it was in the past.
ID
SIRE
DAM
DOB
DISPOSAL
14-0009
B 13-0036
12-0075
1/12/2013
CALVING HISTORY
Calving Date
Calf ID
Calf Sex
Weaning Date
Calving Interval
15/11/2017
17-0043
Female
15/6/2018
NA
15/12/2018
18-0014
Male
15/7/2019
395 days
Example of a basic cow/calf record card
CATTLE STOCK REGISTER – January 2020
Herd
Young
Female
Male
Tot
Date
Bulls
Cows
Heifers
Bulls
Oxen
Calf
Calf
Calf
TOT
1/1
2
49
6
2
4
8
8
16
79
8/1
2
49
6
2
4
9
8
17
80
15/1
2
49
6
2
4
10
8
18
81
22/1
2
49
6
2
4
11
8
19
82
25/1
2
49
7
2
4
11
8
19
82
25/1
2
49
7
1
4
11
8
19
81
28/1
2
48
7
1
4
11
8
19
80
29/1
2
48
7
1
4
11
9
20
81
DETAILS
8/1
1 female calf born
25/1
1 female calf to heifers
8/1
Dip
15/1
1 female calf born
25/1
1 young bull sold
15/1
Dip
22/1
1 female calf born
28/1
1 cow died heartwater
22/1
Dip
29/1
1 male calf born
30/1
Dip
Example of a monthly stock register
Images provided by Sekuru