Article by: Julie Havercroft
Concession rose growing concern, Luxaflor, is a model of meticulousness, efficiency and productivity.
Over 16ha of greenhouses hold 33 varieties of A1 export quality roses. A three-times daily picking schedule means cargoes of roses are flown to Holland and South Africa three times a week. Managing the daily operations and ensuring the farm maintains a high standard of production, Jason Young (General Manager), Roelof Nugteren (Operations Manager), Peter Malaya (Assistant Production Manager), and Maxwell Mbewe (Assistant Crop Protection Manager), oversee every aspect of the day to day farming, and are helped by section managers, from greenhouse through to packshed. The farm currently employs 400 full-time workers, of which 55% are women.
FAIRTRADE
Everyone working on the farm takes part in a year-round operation and the Fairtrade compliance means that Luxaflor has a commitment to the welfare of its workforce.
Jason Young explains: "Fairtrade is a social movement whose stated goal is to help producers in developing countries achieve better trading conditions, as well as to protect and benefit employees and/or farm workers.
"This is achieved by working with the certified farms to ensure decent working conditions for their workers as well as protecting their rights.
"We at Luxaflor Roses, carry our Fairtrade and MPS certification with pride. We are one in 4-5 Zimbabwean companies with a Fairtrade certification, and with a large workforce made up of women, we ensure and adhere to the safety and good working conditions. "Currently, the fresh-cut flower business is estimated to be about US $1 billion each year, worldwide. Although Zimbabwe's floriculture sector is currently a small drop in the ocean, we intend to make a big splash. Our workers earn a wage that is par to the government set minimum wage but being Fairtrade certified, our workers receive a Fairtrade premium of five percent for every rose stem sold of which the workers themselves have sole right over.
"Our workers at Luxaflor Roses have elected a committee which oversees these funds, which they can invest in projects that benefit their communities, such as paying for children's school fees, improving their working conditions, social obligations, hobbies, transport and improving health care and facilities".
This rose growing operation has been in existence for over 20 years. It is now on a large scale and is geared for further expansion of another 20-30 ha of A1 quality fresh-cut roses all under new steel greenhouses. With investment being sunk into research and development here, there are not many others who are growing roses locally at this intensive level. With exclusive varieties, new varieties under trial and grafting operations, there are no plans to slow down just yet.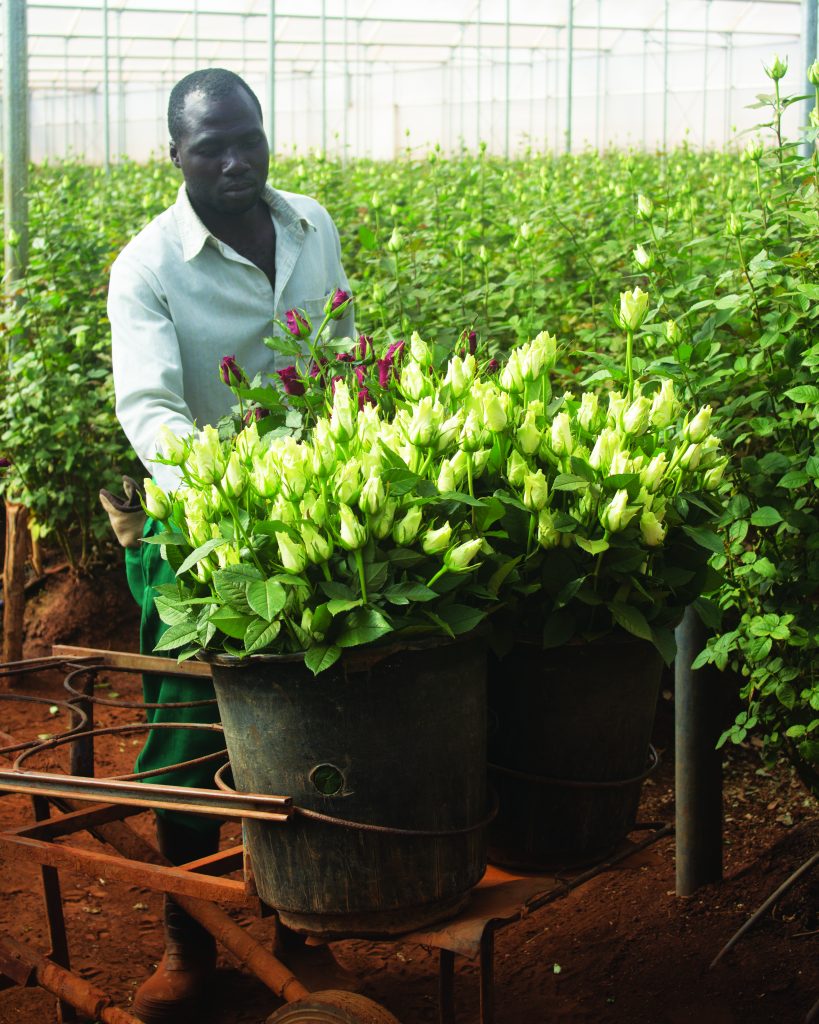 Integrated Pest Management (IPM), is also being incorporated into production, with plans for bug control to take over from chemical disease control in one entire greenhouse for starters.
The farm has to be run smoothly to compete on the global export market playing field. While rose growing in Zimbabwe collectively may be way behind Kenya in terms of export earnings, an outfit such as Luxaflor certainly is going its bit to develop the brand of Zimbabwe as a serious prospect for business.
HORTIFLOR EXPO IN OCTOBER
With the immediate future of agriculture in Zimbabwe firmly on everyone's minds, rose breeders and local and foreign industry role players have been invited to attend and participate in a trade exhibition, Hortiflor Zimbabwe. This is going to be held in October at the Rainbow Towers and aims to promote this sector of the industry. Most floriculture breeders will be in attendance along with side growers, logistics, buyers and sellers.